Manic:  My metabolism since turning 50!  Sometimes I am quite hungry and other times not at all, but no matter what, it is way harder to drop a few pounds than it was when I was younger.  And I love snacks.  KIND Bar minis are my new favorite find, so that is a go to snack for sure.  But many other readily accessible unhealthy snacks tempt me when I am on the run.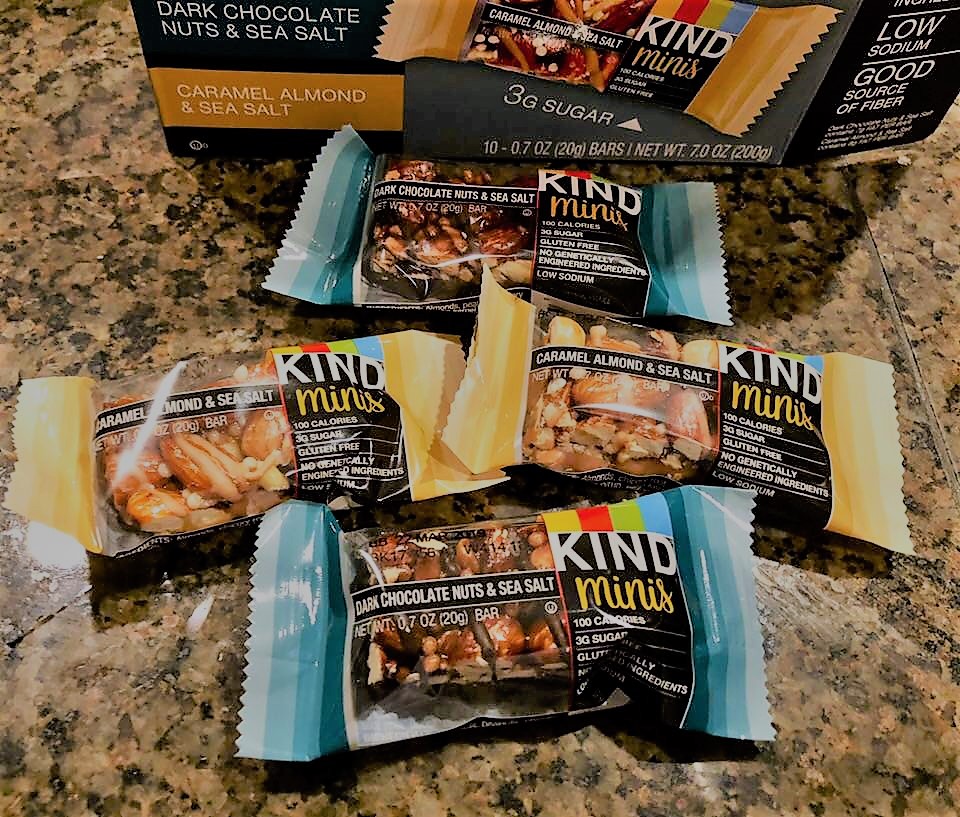 I am on the go a lot, so grabbing a quick snack is many times necessary, but also tempting with so many unhealthy foods out there.  So what is a manic managed mom to do about snack attacks?
Managed:  I have taste tested some easy to grab snack solutions that work well when you are running around town.  Take a look at my yummy picks…
The Smartest Snack Solution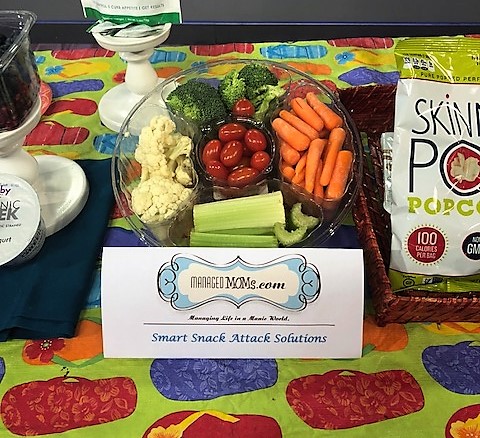 The smartest snack solution is to stick with good ol' veggies and fruits.  I buy the precut veggie tray at my grocery store, but I try to get the tray without the tempting Ranch dressing.  Also try different fruit combos like blueberries and pomegranate seeds together.  I like to mix this colorful and nutritious combo in with my plain Wallaby organic yogurt for a nutritious yogurt that I sweeten myself.  Try it!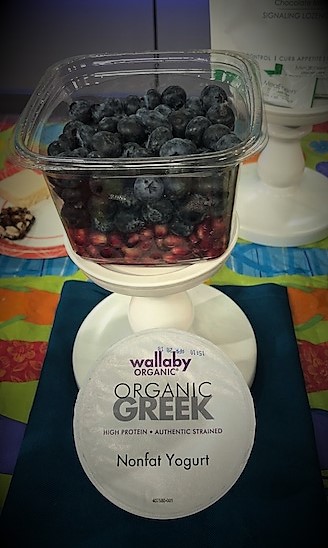 Or freeze grapes and you will love how they tastes just like a popsicle.
Of course, there are times when we want snacky snacks instead of fruit and veggies exclusively, so here are some of the lower calorie snack ideas that work for me.  I have listed them in categories that include salty crunch, sweet tooth and coffee drinks/ice cream alternatives. Take a look…
Salty Crunch Busters
Want something salty and crunchy?  Say no to potato chips and instead try these ideas…
*Skinny Pop Popcorn – only 100 calories in the snack bag, non-GMO, gluten free and no artificial ingredients.  Yes please!
*Organic Himalayan Pink Salt Popcorn – at 100 calories a bag, this snack fills me up and I appreciate that only three ingredients fill my snack bag which include organic non-GMO popcorn, coconut oil and Himalayan salt.  Protein and fiber are also good byproducts you get with this snack.
*Blue Diamond Whole Natural Almonds snack pack – Only 100 calories per pack and these are easy to throw in my purse.  Only one ingredient is listed…almonds.  Perfect choice!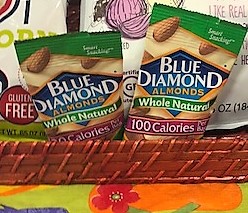 *Skinny Quinoa Sticks – I just found these at Walgreens and I am hooked!  As the website says, these tasty snacks contain real ingredients like quinoa and omega-3 rich chia seeds that make this whole grain snack a smart choice.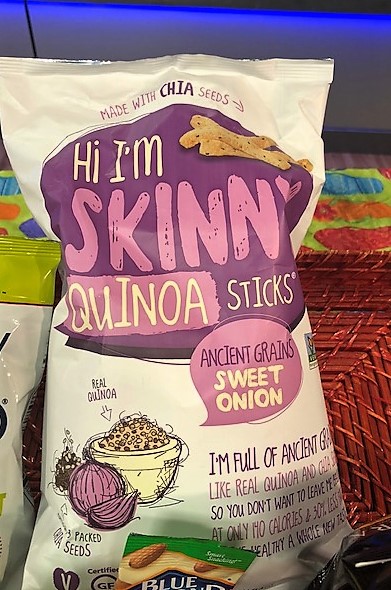 These crunchy sticks are a delicious and family-friendly snack with a big taste, minus the bad stuff.  These have zero trans fat, cholesterol, artificial flavors, colors, or preservatives and this company boasts that the skinny sticks contain 30% less fat than the leading potato chip.  Sold plus they taste really good!
*Terra Real Vegetable Chips – These are my new obsession that keep me away from potato chips.  Non-GMO in original Sea Salt flavor, these guys contain a seasonal mix of root veggies that include sweet potatoes, yuca, parsnip, sea salt and beet juice.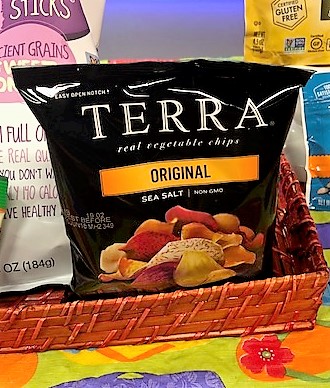 At 150 calories a snack bag, my urge for crunchy chips is satisfied with this better choice.  BUT I must admit that after doing some research, these chips don't add up to a healthy snack, but I eat these instead of potato chips now because I still believe that root veggies are better than white potatoes.
*Crunchmaster Multi-Seed Rosemary & Olive Oil Crackers – Gluten free, 100% whole grain with no artificial colors and flavors, these are my go to crackers now.  Perfect with a nice slice of cheese on top.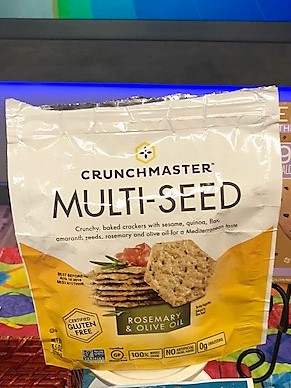 Sweet Tooth Treats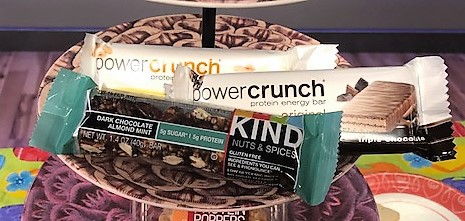 Oh, that tempting sweet tooth!  Instead of candy bars, cookies and ice cream, try these savory snacks…
In place of a candy bar, try these…
*KIND Dark Chocolate Almond Mint Bar – I especially like this flavor because of the yummy chocolate mint combination.  And there are several KIND varieties that only have 5 grams of sugar with ingredients that can be pronounced.  So, you know what you are eating.  This bar is 200 calories, so it is filling, and it also contains 5 grams of protein.
*Power Crunch is the protein bar that my trainer recommends.  He likes these because each bar only has 5 grams of sugar and no sugar alchols.  I love this bar because it is delicious and tastes like a wafer cookie without the chalky aftertaste that many other protein bars leave plus the Power Crunch bar won't result in a sugar crash.  My daughter loves the chocolate mint flavor and my favorite is the peanut butter crème variety.
Instead of cookies, try this…
*Emmy's Organic Coconut Cookies Dark Cacao – Starbucks sells these now in their snack section.  USDA organic, vegan and gluten free, these mini cookies are made with fair-trade cocoa powder and cold pressed coconut oil.  One cookie has 100 calories and 5 grams of sugar.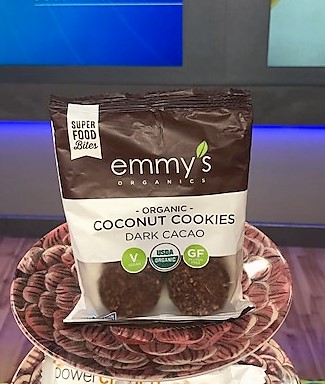 Not bad for a cookie and the coconut flavor and texture is chewy and satisfying, so one cookie takes care of my sweet snack craving.  I especially appreciate the whole ingredients in these cookies that don't contain high fructose corn syrup.
Iced Coffee Craving/Ice Cream
Instead of a sugar filled iced coffee or blended shake at the drive-thru coffee shop, try this…
*Enlightened Cold Brew Coffee Chip – Buy a box of these yummy ice cream bars and only take in 90 calories a serving instead of the typical coffee shop blended coffee drink which can run as high as 340 calories and a whopping 47 grams of sugar for a drink like the 16 oz Starbucks Java Chip Frappuccino.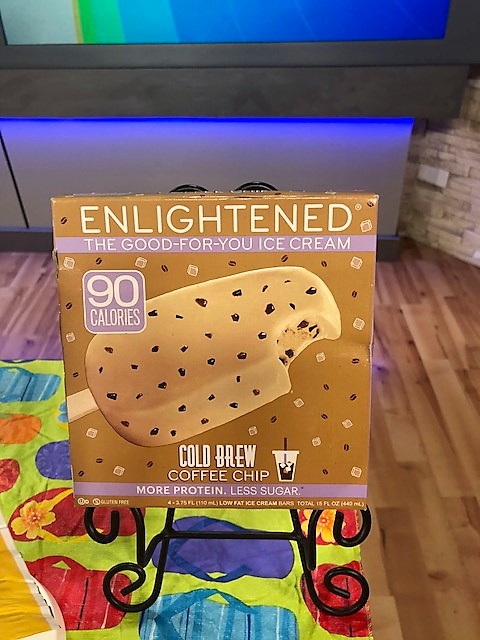 That used to be one of my old faves before I gave that up!  I am especially happy to find the Enlightened ice cream bar that only has 5 grams of sugar.  Enlightened has other ice cream flavors as well like mint chip.
Interesting Curb Craving Product:  Meal Enders
*Try Meal Enders.  I heard about this interesting snack candy idea on social media.  So I ordered a bag of yummy chocolate mint flavored Meal Enders and I do think they sort of work.  I say sort of because they aren't cheap, unfortuntely.  So you have shell out the dough for this snack solution and I can't prove that they really curb your appetite and keep you from snacking and consuming dessert or if it is a mental thing.  But they do taste good, they do satisfy my urge to keep on eating and the tingly taste that is the aftertaste feels like an after dinner mint.  Somehow all of this signals the brain that eating is done.  Again, I am not a spokesperson for Meal Enders and I don't know for sure if they truly work, but for me, they do the trick on a lot of days.  Not every day, but a lot of days if I pop a Meal Ender after my meal, that satisfies me instead of ordering a dessert.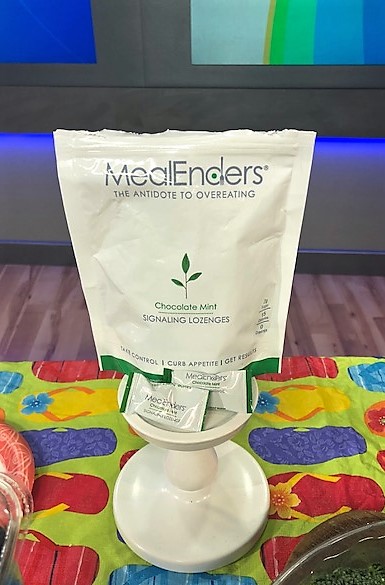 That is a good thing.  I just don't like the price.  One solo pack that contains 25 pieces costs $16.95 or get a 3-pack for $34.95 or a 9-pack bundle for $89.95.  Flavors include Citrus, Cinnamon, Mocha and Chocolate Mint.  I have only tried the Chocolate Mint and my daugther and I both like that flavor a lot.  I have ordered the Mocha, so I hope I like it.
What are your smart snack solutions?  Leave your yummy ideas in the comments section.  Happy snacking and happy summer shopping for fashions, too.  That is also a good remedy when you feel a snack attack coming on…try on last summer's clothes or go shopping!  In any event, eat as healthy as you can!