If you saw my segment that aired today on the Your Life Arizona morning show, here are the details…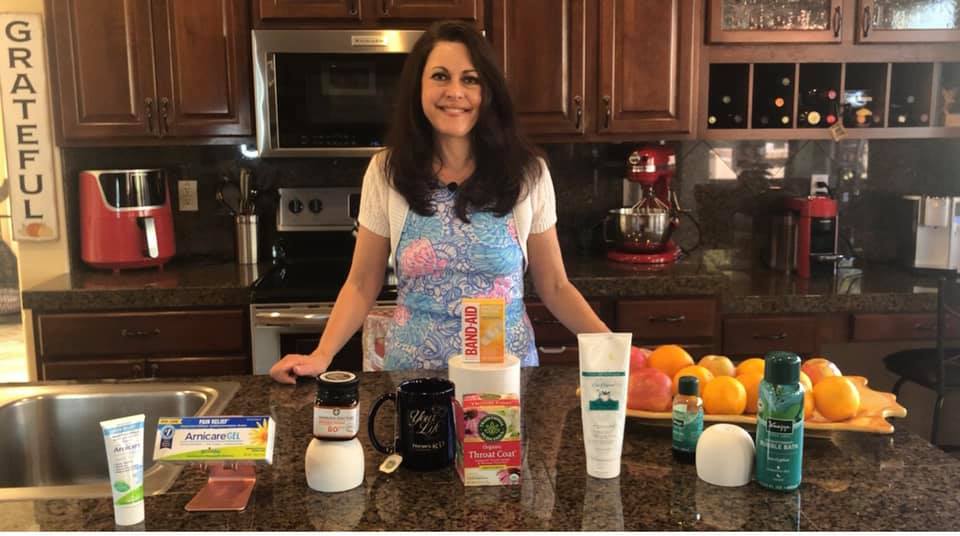 With families home a lot more than in years past, it is more important than ever to have a good home health kit on hand.  Especially since we should try to avoid a trip to the overcrowded hospitals during these tough times.  Here are a few items I keep in my family's helpful home health kit.  Some of these items were recommended to me from my own mother, other moms I know and some from my blog readers, too.  Take a look…
For Home Injuries, Muscle Aches & More
*Boiron's Arnicare Gel is my mom's favorite remedy for treating injuries from bumps, falls, overexertion and more mishaps. I agree with her so I keep our home health kit well-stocked with Boiron's Arnicare Gel.  The non-greasy, unscented gel is made with a mountain daisy called Arnica montana that has been used for centuries to relieve pain.  The gel lessens muscle pain and stiffness and helps reduce discoloration from bruises.  It is a homeopathic medicine that is widely available at stores that include Walmart, CVS, Target, Walgreens, Whole Foods, and Sprouts as well as natural product stores and online retailers.  For more information visit Arnicare.com.
For Cold, Flu & Throat Ailments
*Throat Coat Herbal Tea & Raw Manuka Honey – My actress daughter's go-to remedy combination for a sore throat, laryngitis and other throat ailments is combining manuka honey (any brand) with Throat Coat Herbal Tea.  Many grandmothers before us used honey for sore throats so this a time-tested remedy.  Manuka honey costs more but the helpful antibacterial properties make it a more effective remedy than traditional honey.  Take a teaspoon of manuka honey alone or with a good herbal tea.  Our top pick is Traditional Medicinal Organic Throat Coat. I buy both products at Whole Foods.
*** VERY IMPORTANT:  never give honey to a child under one year old. It can cause botulism.  Also, be sure that your child does not have an allergy to bees.***
Perfect For Households With Kids
*Band-Aid Infection Defense is a great product for parents to have on hand because the bandage comes with the ointment already on the adhesive.  One step less to treat the injury on a child who finds it hard to sit still.  I wish this type of band-aid had been around when my kids were small!  Sold at drug stores and grocery stores.
For Dry Skin Ailments
*Purely Northwest Tea Tree Oil Foot & Body Cream – Finding tea tree oil in a lotion has been a big help in our home.  Our entire family has dealt with dry skin and mild eczema plus all the excessive handwashing due to the pandemic has made our skin ever drier.  This is the best lotion I've found for hands, feet, elbows and more.  I discovered this on Amazon.  I buy it for $10 on Amazon.
For Sinus Issues
*Kneipp Aromatherapy Eucalyptus Bubble Bath & Bath Oil – For sinus infection sufferers like me try a drop of this bath oil in your bath plus the bubble bath in a bath or a steamy shower.  The trick is to get the eucalyptus aroma.  This helps and soothes my sinuses every time.  I buy both on Amazon.  I buy the small bottle of the Kneipp bath oil on Amazon for $20 and the bubble bath sells for $15 also on Amazon.
What are your favorite home remedies?  Share in the comments section as we love to help each other stay healthy with helpful home health kit ideas.  Be sure to check my blog at managedmoms.com for more wellness tips, recipes and more.  Wishing you wellness and stay safe.