Watch below to see my quick and easy chicken pot pie recipe that I showed in my AZTV Arizona Daily Mix morning show segment.  I had a great time teaching show host, Brad Perry how to make this recipe that truly multitasks.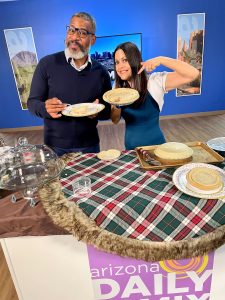 Make this meal to gift to friends and family in need. I have delivered this pot pie to friends recovering at home from surgery and to families with a new baby at home.  This also works great for a quick dinner for parents needing to make a meal before an after-school event.  Teach this easy recipe to your college student since this entree is simple and quick to make and bake.  Make two of these chicken pot pies for make ahead meals.  Freeze one for a quick dinner for a later date.  This pot pie is my family's favorite recipe.  Watch below to see my cheat quick tip to get a perfect top crust.  Here is the simple 6 ingredient 30 minute pot pie recipe as seen on the morning show.  You can print the recipe that is listed below the segment.

Chicken Pot Pie Recipe
What You Need:
 3/4 cup Milk
1 can of cream of potato soup
1 can Veg-All Veggies, drained
1 ½ cups cooked shredded chicken breast
1/8 teaspoon pepper
2 frozen pie crusts
What You Do:
Preheat oven to 400 degrees.
Combine and mix all ingredients except pie crusts. Keep crusts frozen until ready to use.
Next pour the mixture into one frozen pie crust.  It is very important that you keep your crusts frozen until you are ready to assemble the pot pie.
To fake make (since this is not a homemade crust – this is the best crust cheat tip ever!) that perfect top crust, simply pop the other frozen crust right out of the pan and place on top of the pot pie.  This is such a cool and easy trick!  If the crust is truly frozen, it should pop right out after you loosen the edges.
Cut a slit in middle of the top crust for venting during baking and bake uncovered for 30 minutes at 400 degrees.
Try this simple recipe.  I bet it becomes a family favorite like it has in our household. A big thanks to my friend, Diane who shared this recipe with me 24 years ago when I had a new baby and needed to make quick and easy dinners!