Manic:  Need to make my family a home-cooked meal, but plan to be out all day.
Managed:  Crank up the crock pot and try this super easy and very delicious pulled pork slider recipe.
The last time my Dad visited he took one bite of the pulled pork sandwiches that I made and then he asked me two questions.  First, could he have the recipe and secondly, how had I pulled off pulled pork when we had been out all day?  So he took the easy recipe home.  He tells me that he has made it a lot and now you can print this recipe and make it a lot, too.
What You Need: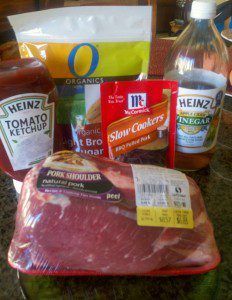 McCormick Slow Cookers BBQ Pulled Pork packet (this is the secret ingredient!)
Ketchup
Brown Sugar
Apple Cider Vinegar
3 lbs. Pork Shoulder (recipe calls for boneless, but bone-in comes out more tender every time)
Slider buns
What You Do:
1.  Place pulled pork in your crock pot.
2.  Simply follow directions on the back of the McCormick packet which tells you the measured amounts of brown sugar, apple cider vinegar and ketchup to mix with the packet contents.  Mix well. 
3.  Pour sauce over pork, cover and cook in crock pot on low for 8 hours.  You can also set your slow cooker on high for four hours, but I think cooking the meat on low comes out much better.  8 hours later, shred pork and serve on slider buns.  I like to top mine with cole slaw and add a zesty dill pickle.   And I added my last second salad recipe (
http://www.managedmoms.com/2011/03/last-second-salad-recipe/
) for good health.  Yum!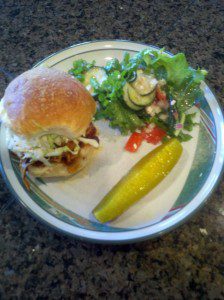 Enjoy!  What is your favorite crock pot recipe?  Share in the comments section section.  Happy crock potting!