Clean eating has been our goal lately.  My daughter requests healthy homemade recipes as she works to keep herself in top shape to keep up with her community theatre audition schedule and high school honors class load. For myself, since I am just a few months away from my 50th birthday, I want to be as healthy as possible…and I am trying to cook that way for the hubs as well.  Our clean eating goals is not his favorite change around here since our son went away to college, but he grins and bears it, for the most part.  So when we find a recipe that meets all criteria that he also likes, I can't wait to share my food find.  Today's recipe is called Garlic Baked Salmon with Brussels sprouts.  I borrowed it, with permission, from my favorite online meal planning recipe guide, MealGarden.  This yummy recipe calls for some of my favorite ingredients like white wine and garlic.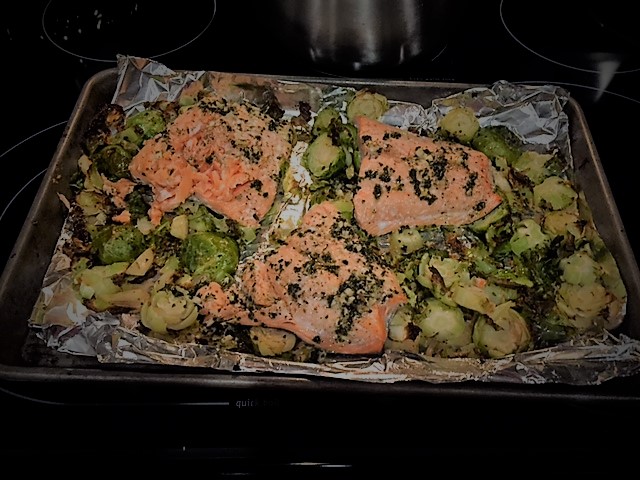 And when it comes to Brussels Sprouts, when roasted with savory spices and pleasing olive oil, who can resist this healthy and tasty veggie that comes out of the oven a bit crisp?! Read on for this easy, delish and nutritious recipe that can be prepared from start to finish in a little over 30 minutes.  So good!
Garlic Baked Salmon with Brussels Sprouts
What You Need — Serves 3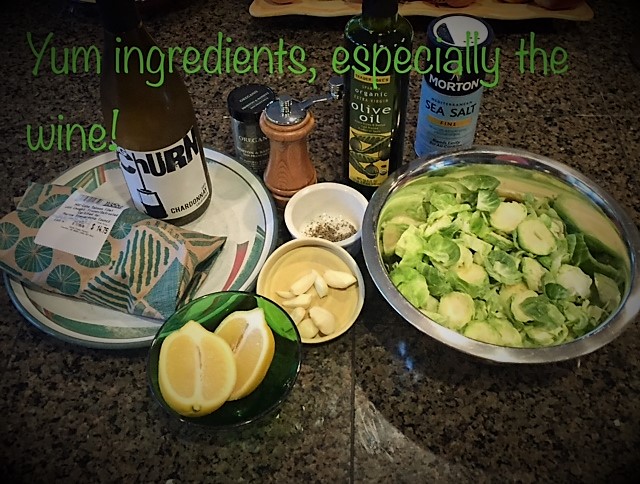 3 salmon filets – buy wild and select pieces close to the tail to avoid bones 
1/4 tsp pepper – grind it yourself for best results
3 cups Brussels sprouts, trimmed and sliced
1/8 cup extra virgin olive oil
7 garlic cloves
1/3 medium lemon cut into wedges
1 tbsp fresh dried oregano
1/2 tsp salt
1/3 cup white wine, preferable Chardonnay 
What You Do
 Preheat oven to 450 degrees.
Mince 2 garlic cloves and combine in a small bowl with olive oil, oregano, salt and pepper.
Halve the remaining garlic and toss with Brussels sprouts and 3 tablespoons of the seasoned oil on large roasting pan.
Roast, stirring once, for 15 minutes.

Add wine to remaining oil mixture and when Brussels sprouts are done, stir and place salmon filets on top.
Drizzle with wine mixture and sprinkle with more oregano, salt and pepper as desired.
Bake until salmon is cooked through, about 5 to 10 minutes.
Serve with lemon wedges.  So good!
Be sure to check out MealGarden for your healthy and tasty meal planning.  It has made our clean eating plan easier to follow with great recipes, grocery lists and more.  We love our MealGarden membership!