Everything's coming up pumpkin now that October has arrived!  I love pumpkin season.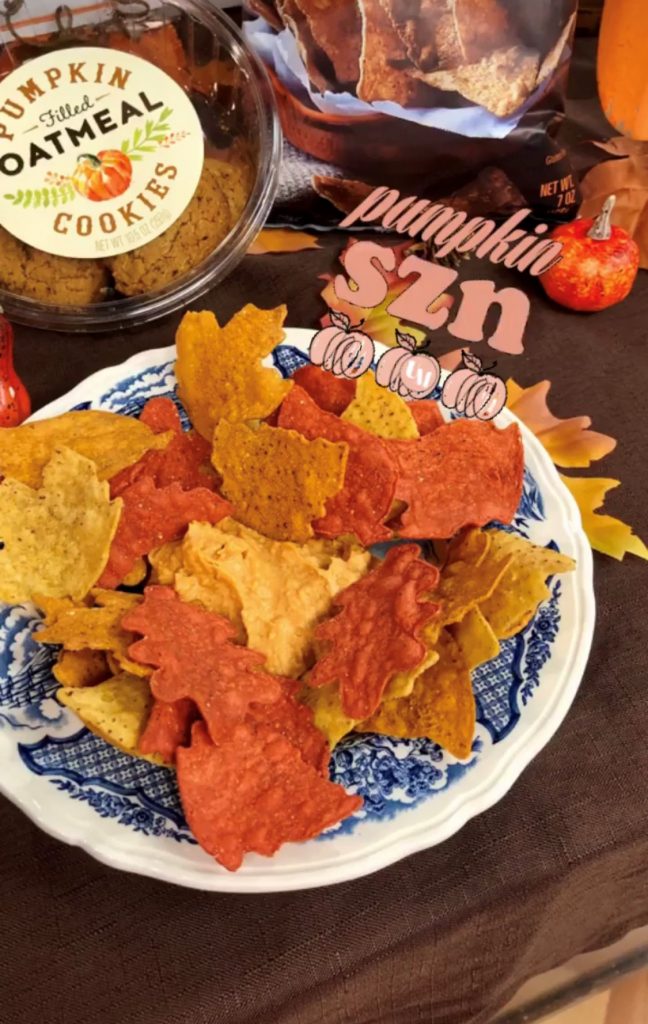 Today I celebrate this fall seasonal delight with favorite pumpkin treats, some pumpkin beauty treatments and even a delish pumpkin cocktail.  Take a look at what I showed in my 3TV Your Life Arizona morning show segment this week and celebrate the season with me!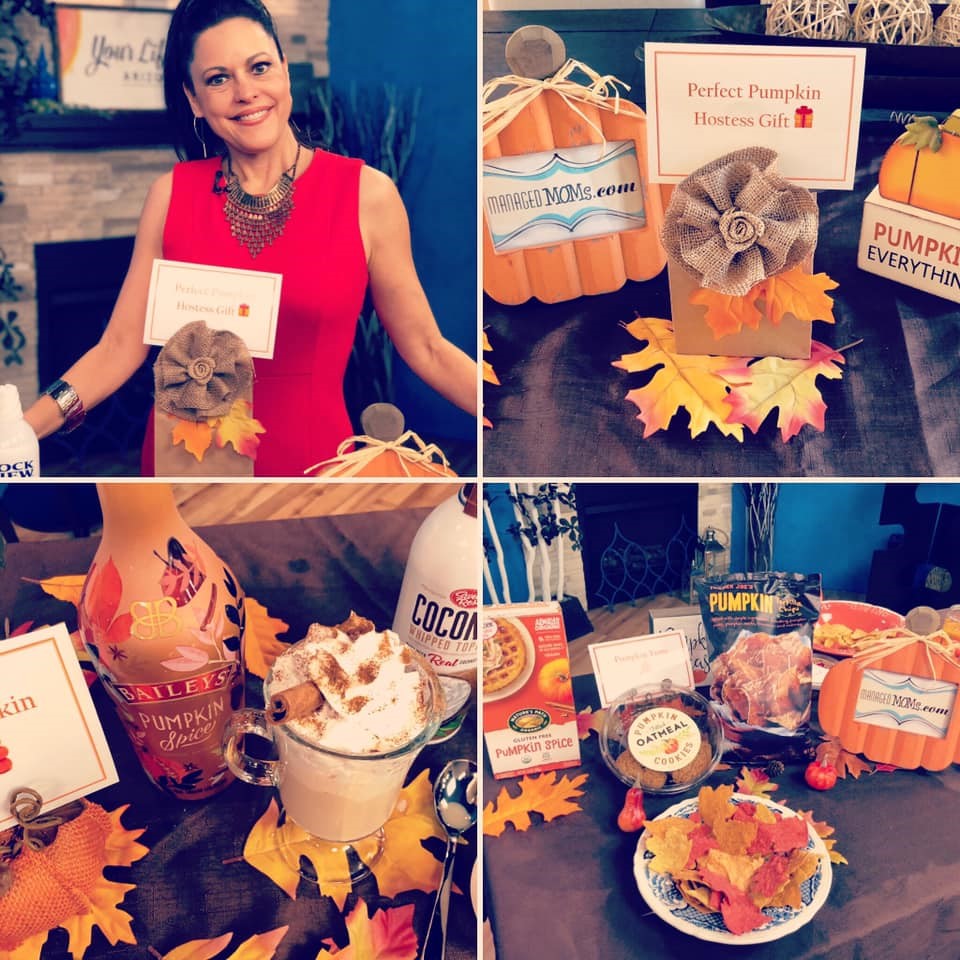 Pumpkin Cocktail Idea
Bailey's gets in on the spirited seasonal action with a pumpkin flavored spirit!  The limited-edition Baileys Pumpkin Spice Liqueur is yummy.  Mix with bourbon for a fun fall cocktail or serve with coffee topped with whipped cream and sprinkled with cinnamon.  Finish it with a fun cinnamon stick inside and you've got a yummy and pretty beverage to serve.  It's especially cool to have on hand for a chilly night outside by the fire.  Baileys has three different cocktail recipes printed on the side of the bottle, one of which I showed in the segment.  That recipe is…
Pumpkin Spice Latte Cocktail Recipe:
Mix 2 oz. Baileys Pumpkin Spice Liqueur with 1.5 oz brewed coffee and 1 oz. milk.  I then topped it off with whipped cream, a sprinkle of cinnamon and I added a cinnamon stick for a pretty finish.  This can be served hot or cold.
I bought my Baileys Pumpkin Spice at Total Wine for $18.99 a bottle.  This bottle of the seasonal good stuff also makes a fun hostess gift idea, which brings me to my next pleasing pumpkin category.  Give the Baileys alone or with pair with this idea below.
*Trader Joe's Vanilla Pumpkin Scented Candle in cute burlap bow gift bag – For only $3.99 the pleasant pumpkin scented candle is a great gift for the holiday hostess with the mostess.  Pop it in a cute little paper bag style gift bag ($1.99 for 5 mini bags by Brother & Sister Design Studio at Hobby Lobby) adorned with a darling clip mini burlap bow by Brother & Sister Design Studio ($2.99 at Hobby Lobby) and you have the perfect little gift that all came together for under $10.  You can spend less than that because Hobby Lobby always has 40% off coupons online at RetailMeNot and on the Hobby Lobby site at hobbylobby.com.  Add a few little decorative fall leaves that I also purchased at Hobby Lobby for extra flair.  The fake leaf designs are sold by the bunch in a bag by Brother & Sister Design for $5.99.  Give the candle by itself or hang the gift bag on a bottle of the Pumpkin Spice Baileys and your hostess will feel the appreciation and the love!
Big news!  Most of the seasonal October and Thanksgiving decor at Hobby Lobby is marked at 40% off right now.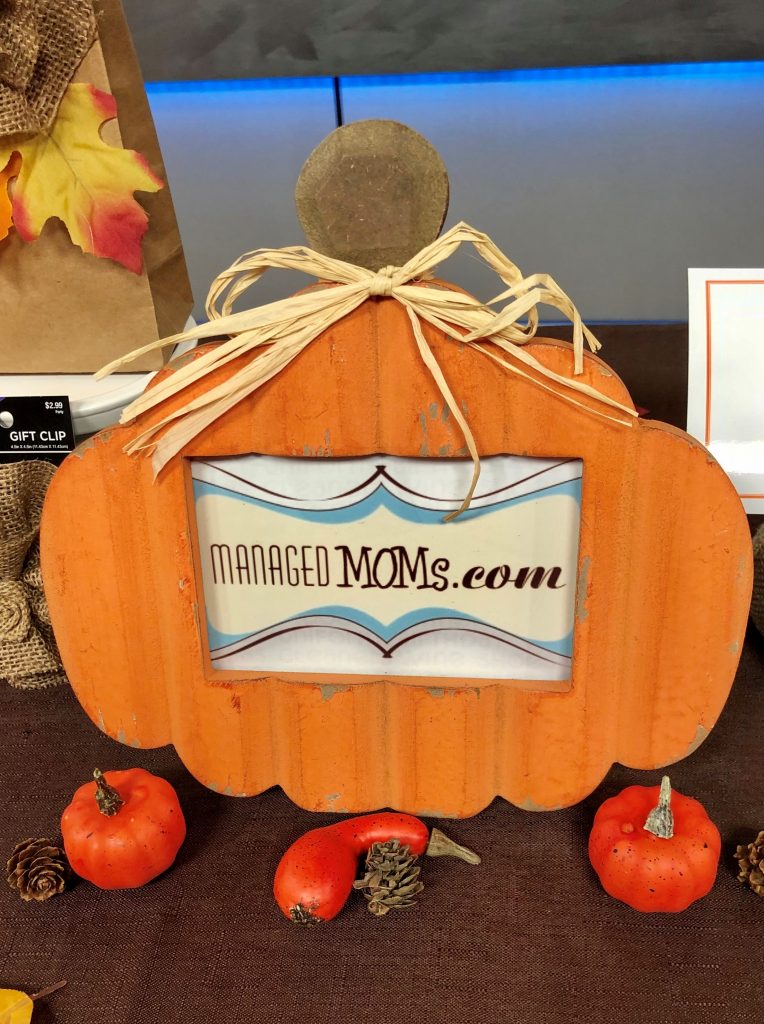 I am told that the sale goes through Thanksgiving with leftover items marked down to 50% after that.
Pumpkin Beauty
Pumpkin is incredible for our skin because that beautiful round orange food is a fruit that is a good source of Vitamin C and is a good antioxidant.  Beta-carotene is also in pumpkin and that ingredient promotes collagen production which helps with anti-aging properties.  Pumpkin pleases the body, especially our skin.  Here are two pumpkin treatments that I recommend.
*DIY Pumpkin Hand Lotion – Chances are you already have these items on hand in your pantry!  Simply mix ¼ cup of pumpkin puree with 1 teaspoon of Manuka honey (or any honey…Manuka is incredibly healthy but it is costly) and 1 teaspoon of olive oil.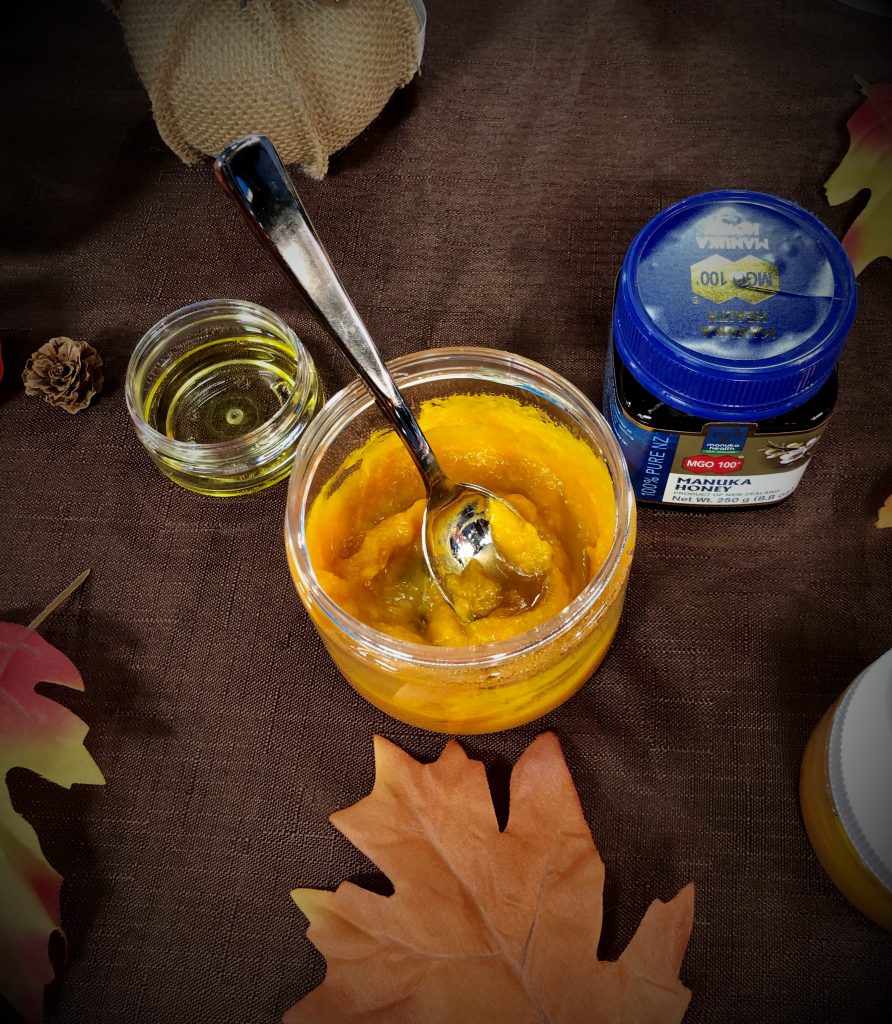 So easy and this is a nice moisturizing anti-aging treatment for hands.  I found this simple and soothing recipe on treehugger.com.  My hands love it!
*Store bought Trader Joe's Pumpkin Spice Biocellulose Face Mask – Who knew that a grocery store sells such a cool pumpkin face mask spa treatment!  This one is made with clove leaf, orange peel, ginger root oils and more for a facial that is an at home relaxing spa treatment that greatly hydrates the face.  $2.99 at Trader Joe's stores.
*Pumpkin Ginger Hold the Cone mini ice cream cones — Who says that ice cream is only for summer!  This ice cream cone may be miniture, but it leaves a big impression.  The cone is ginger flavored and is delicious.  Topping the cool cone is scrumptious pumpkin ice cream that includes ingredients like ginger, nutmeg, cinnamon and cloves.  This is now my new fave flavor.
And if that's not enough the irresistible ice cream is encased in a smooth vanilla coating.  These little dudes melt in your mouth and because they are mini sized, you won't blow your daily calorie count.  I highly recommend this seasonal treasure.  I paid $2.99 for a box of eight cones.  So good!
*Pumpkin Spiced Pumpkin Seeds — One of my gal pals first told me about this pumpkin sweet seed mix and she described it as addictive.  Her nickname for this treat is pumpkin crack!  So yummy! Put in a bowl to be enjoyed by itself or mix it with granola.  So good because this Trader Joe's mix combines pumpkin seeds with sugar, butter and a pumpkin spice that is made with ginger, cinnamon, nutmeg and allspice.  I paid $2.99 for my bag.
*Pumpkin Filled Oatmeal Cookies – For oatmeal cookie lovers, try this pumpkin filled oatmeal cookie that is sold at Cost Plus World Market.  Sells for $3.99 for a box of 12 cookies.
*Pumpkin Spice Spoons for coffee – Fun to put out for something festively different for your guests having coffee.  $6.99 at Cost Plus World Market for a bag of six candy spoons.
*Pumpkin Tortilla Chips – A different twist on a tortilla chip since these are made with pumpkin puree, pumpkin seeds, cinnamon and nutmeg.  They are good!
My Favorite Year-Round Pumpkin Food
*Nature's Path Organic Pumpkin Spice Gluten Free Waffle – I love these waffles and I love that they are sold year-round at Natural Grocers!  Thank you!
My Favorite Fall Food Find
*Trader Joe's Fall Leaf Corn Tortilla Chips — These aren't pumpkin flavored, but I had to include them anyway!  Too good not to mention.  These tortilla chips are yellow, orange and red and are shaped like fall leaves.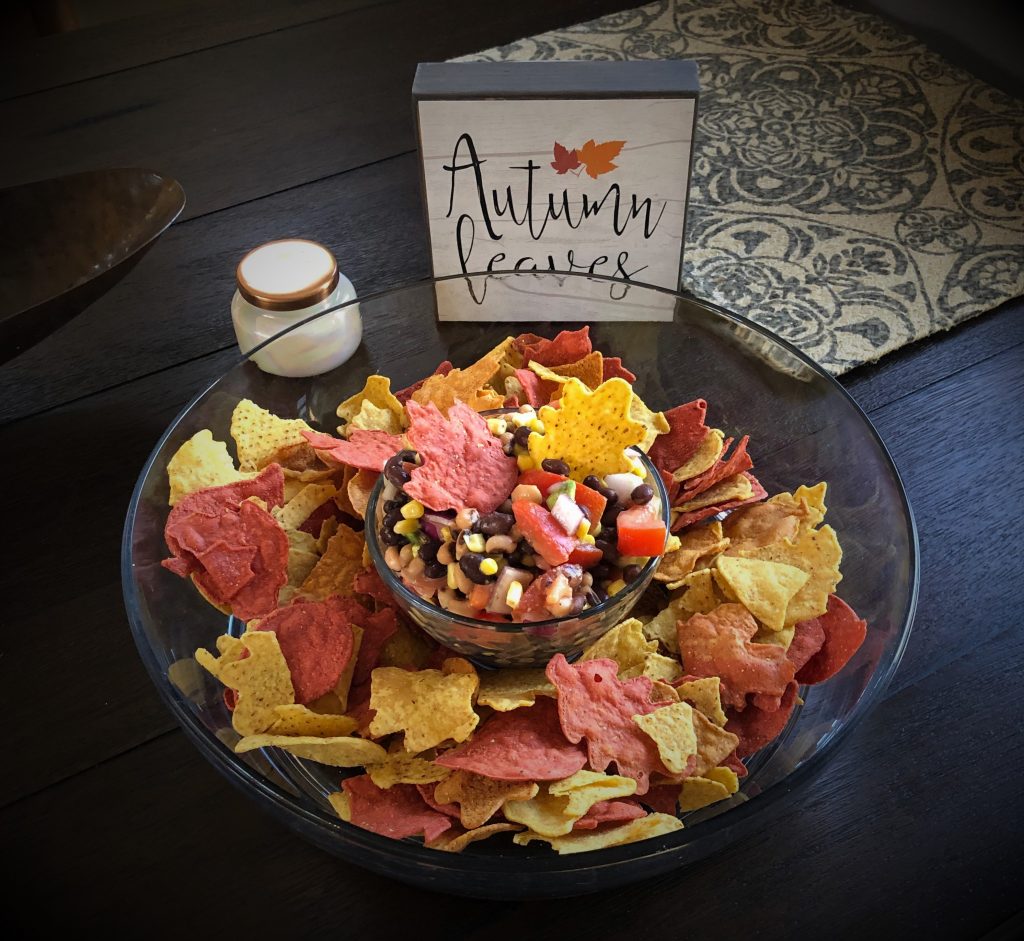 The perfect chip for your festive fall holiday chip and dip plate.  These really are all that and a bag of chips!
What are your favorite seasonal pumpkin items?  Tell us in the comments section and be sure to check out my blog for more holiday fun stuff, recipes, beauty tips and more at managedmoms.com.  Happy Fall all!