Day 2 of our managedmoms.com 1-year anniversary celebration brings two cool things:
1.  The top five most read recipes of the year….and….
2.  Our first Five Day Freebie Friday winner!  To celebrate our anniversary week, we will draw one winner a day (winner drawn through random.org) and today's winner is……
Jenn Yanez from Round Rock, TX!!!
Congratulations to Jenn and thank you so much for being a subscriber!  Just this week only, winners get to choose their prize from several options and Jenn's choices were either a baby carrier made by Beco or a Paul Mitchell Flat Iron.  We notified Jenn that her name was selected through random. org and she chose the super nice Paul Mitchell flat iron…

We will draw another name tomorrow, so be sure to check the website to see who tomorrow's Freebie Friday winner is for day #2 of our Five Freebie Fridays Anniversary Week celebration!!
Now back to the most read recipes from 2011….your top five favorites (based on page views) were…
1.  Homemade Green Chile Sauce & Smothered Burrito Recipe that was posted on June 9th and this is my sister-in-law's super yummy recipe from New Mexico!  Here are a few pictures from the recipe: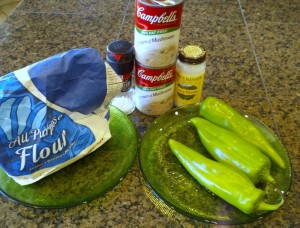 To see the entire recipe and to print it out, click here:
https://managedmoms.com/2011/06/homemade-green-chile-sauce-smothered-burrito-recipe/
2.  Super Bowl Snack Idea:  The Very Versatile Veggie Tray that was posted on Feb. 6, 2011 and you can see that article at:
https://managedmoms.com/2011/02/super-bowl-snack-idea-the-very-versatile-veggie-tray/
3.  Gwyneth Paltrow's Marvelous Mac & Cheese Recipe that was posted on May 25th!  
You can see that recipe at:
https://managedmoms.com/2011/05/gwyneth-paltrows-marvelous-mac-cheese-recipe/
4.  Simple Sliders Pulled Pork Style that was posted on March 29, 2011:
 https://managedmoms.com/2011/03/simple-sliders-pulled-pork-style/
5.  Breakfast Burritos with Home Fries Recipe & T-Fal ActiFry Review posted on September 14th:
To see the entire recipe and article go to this link:
https://managedmoms.com/2011/09/breakfast-burritos-with-home-fries-recipe-t-fal-actifry-review/
So those were your top five most read recipes from 2011.  Was there a managedmoms.com recipe not listed here that you enjoyed?  Please tell us in the comments section!
Our anniversary week celebration continues tomorrow with your most read beauty and fitness articles from our first year!  Plus we will name another Freebie Friday winner so stay tuned for that!