Manic:  This time of year is crazy busy with all of the activities that come with the end of the school year, so finding time to cook a good homemade meal is not easy!
Managed:  Implementing several ideas that have worked for me in the past when I needed to feed my busy family fast, but I wanted good food, too.  My ideas include cranking up the crock pot, always keeping a handy cookbook in my car and visiting AJ's Fine Foods buffet on their custom cooking nights.  For more on all of these time-saving options, read below.
First, let's talk about this very cool cookbook that I first told you about two weeks ago….
1.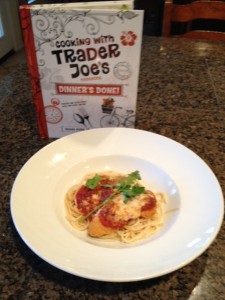 Buy the Trader Joe's cookbook and keep it in your car, so you can stop by Trader Joe's on your way home when you need a fast dinner idea.  The cook book is called Cooking With Trader Joe's Cookbook:  Dinner's Done! by Deana Gunn and Wona Miniati.  Every recipe is pictured and all ingredients are sold at Trader Joe's stores.
The line also includes several other versions of Trader Joe's cookbooks, including lower calorie meals, a smaller book called The Companion and others.  I chose this one because I'm always looking for dinner ideas for my family.  Copies of the book can also be purchased at the Cooking with Trader Joe's website.  I tested one of the recipes two weeks ago and it turned out really good!
2.  Check out AJ's Fine Foods dinner nights.  At the location in my neighborhood, they have Tacos on Tuesdays that are custom built to order, Asian Night on Wednesdays with your customized stir fry order made right in front of you and Pasta Thursdays (my favorite).  You choose the pasta, proteins, sauce and veggies and the chef cooks it fresh and ready for you to take home.  And here is a tip — one portion is big enough for two people, so buy one to take home and share.
3.  Fire up the crock pot in the morning.  I ran this recipe last year and I thought this was a good time to run it again for all of you busy parents out there who are looking for an easy and tasty recipe during your jam-packed week!  Here is my family's favorite crock pot recipe…Pulled Pork Sliders….
What You Need: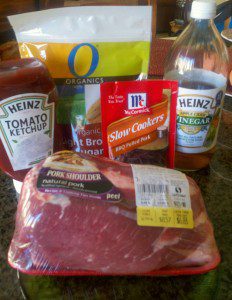 McCormick Slow Cookers BBQ Pulled Pork packet (this is the secret ingredient!)
Ketchup
Brown Sugar
Apple Cider Vinegar
3 lbs. Pork Shoulder (recipe calls for boneless, but bone-in comes out more tender every time)
Slider buns
What You Do:
1.  Place pulled pork in your crock pot.
2.  Simply follow directions on the back of the McCormick packet which tells you the measured amounts of brown sugar, apple cider vinegar and ketchup to mix with the packet contents.  Mix well.
3.  Pour sauce over pork, cover and cook in crock pot on low for 8 hours.  You can also set your slow cooker on high for four hours, but I think cooking the meat on low comes out much better.  8 hours later, shred pork and serve on slider buns.  I like to top mine with cole slaw and add a zesty dill pickle.   And I added my last second salad recipe (
https://managedmoms.com/2011/03/last-second-salad-recipe/
) for good health.  Yum!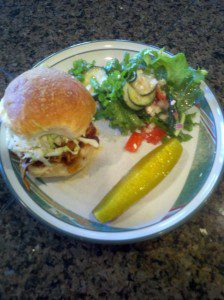 Enjoy!  What is your favorite crock pot recipe?  Share in the comments section section.  Happy crock potting!