Here are the recipes I showed in my Your Life Arizona morning show segment on 3TV this week.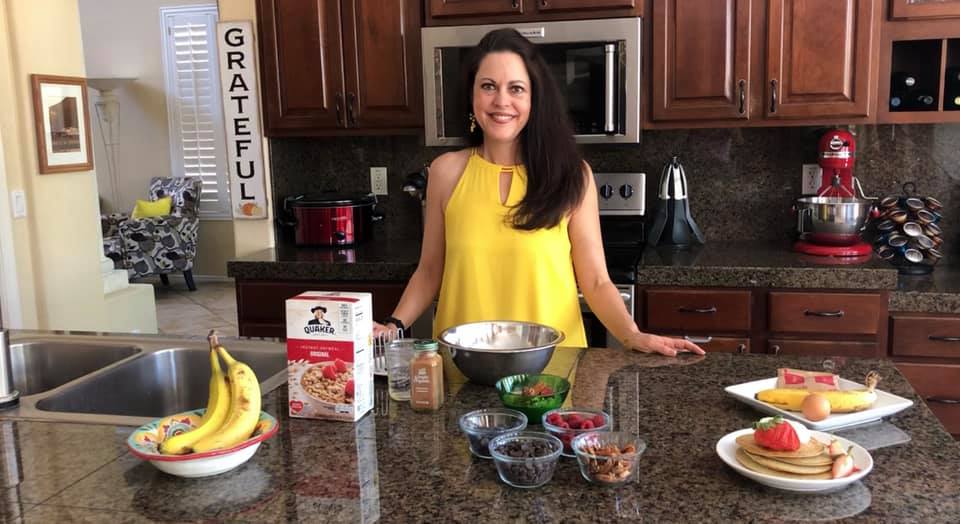 Our family has two favorite breakfast recipes for healthy banana oatmeal and nutritious banana pancakes that have no added sugars.  Plus, a quick tip on how to ripen bananas in mere minutes.
Go Bananas For Breakfast:  Two Simple 4-Ingredient Recipes
4-Ingredient Healthy Banana Oatmeal
Due to reduced inventory on store shelves lately, I ended up with plain instant oatmeal.  My family was disappointed since they like the flavored packs.  I didn't mind since I don't like the excess ingredients and added sugars but how could I get them to eat the plain oatmeal?  I did a little experiment and it worked!  Here is the recipe…
What You Need (Makes 1 serving):
One packet or 1/3 cup of Quaker (or other brand) instant plain oatmeal
1 ripe banana mashed
½ cup of boiling water
Cinnamon
Optional:  berries, nuts & other toppings
What You Do:
Mash the banana with the oatmeal and boiling water.  Make sure the banana is ripe so that the natural sugars are released to sweeten the oatmeal.  I use a potato masher to combine the ingredients and that makes the perfect consistency.  Add as much cinnamon as desired and mix a little more.  Top with berries, nuts, chocolate chips…whatever you want.  Delish and nutritious!
4-Ingredient Healthy Banana Pancakes
My daughter taught me this easy recipe and the banana pancakes taste great every time!  I love that this recipe has only four ingredients and no added sugars.
What You Need:
1 packet plain instant oatmeal (or 1/3 cup if not using packet)
1 ripe banana
1 egg
Optional:  berries, nuts & other toppings
What You Do:
Simply put the three ingredients above in a blender.  Blend until mixed into pancake batter.  Cook the batter in individual pancakes on the griddle.  Done!  Top with syrup, whipped cream berries, nuts or whatever you want to try on top. This makes one serving of three pancakes.
Same Day Banana Ripen Trick
I must give my daughter credit on this tip that she taught me that ripens bananas quickly.  If you don't want to wait a few days for your bananas to ripen, simply put bananas on a tray and heat in your oven at 300 degrees for 15 minutes.  Love this trick!
What are your favorite banana recipes?  Share in the comments section and keep hanging in there everyone.