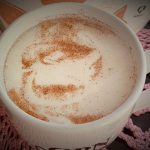 Watch this super short video of my precious mom showing us how to make her healthier version of a cinnamon nutmeg latte without needing an expensive coffee maker. Sure had a blast doing this demo with her on my Your Life Arizona morning show.  Thanks Mom!  Recipe instructions are below the video.
My Mom's Healthy Cinnamon Nutmeg Latte Recipe
What You Need:
Your desired amount of Starbucks Iced Coffee Blonde Roast in coffee cup
Your desired amount of unsweetened soy milk (can also use almond milk, oat milk…whatever you want)
1 to 2 teaspoons of xylitol sweetener – per your taste – can also use stevia or white cane sugar
sprinkle of cinnamon
sprinkle of nutmeg
What You Do:
Heat the coffee.
In separate cup or bowl, whisk heated (or not – your choice) soy milk and xylitol until foamy. This is one example of a handheld milk frother hand whisker that works. There are lots of other brands to also choose from both online and at stores like Target.
Top coffee with whisked soy milk and sweetener combo.
Sprinkle desired amount of cinnamon and nutmeg on top. Yum!